東京スカイツリー
Tōkyō Sukaitsurī
Website: http://www.tokyo-skytree.jp/en/
Nearest Train Station: Tokyo Skytree Station, Oshiage Station
Hours: 8:00 – 21:00
Floors: 340-350 Tembo Deck, 445-450 Tembo Galleria
Price: ¥2,300 to ¥4,200 per person, depending on which package you buy
When to Go
If you are a tourist visiting Japan, I would suggest checking the weather and then buying tickets online a day or more before you go. Shop for the best prices because they will be different based on when and who you buy them from. Try to book for a weekday rather than weekends or during Japanese holidays if don't like crowds. Autumn and Winter mornings are a splendid time for clearer views.
How Much?
The Tokyo Skytree view and "experience" does come at a hefty price and is by far one of the most expensive tourist spots in Tokyo. To make things worse, it comes with a confusing price system. But in short, make reservations and buy your tickets online if you want to save money.
If you go to Google maps and search for Tokyo Skytree, you'll be given the option to buy tickets online via GooglePay portal, just click on the "Buy Tickets" button. The last time I looked prices were ¥2,700 each for adults for access to both the Tembo Deck (350m) and Tembo Galleria (450m). ¥1,800 if you just want to go to the Tembo Deck (350m). This is a pretty good deal especially compared to buying them in-person which is almost twice as much – and potentially more if you end up going on a weekend or holiday. Other sites that offer decent prices are Viator.com and Voyagin.com.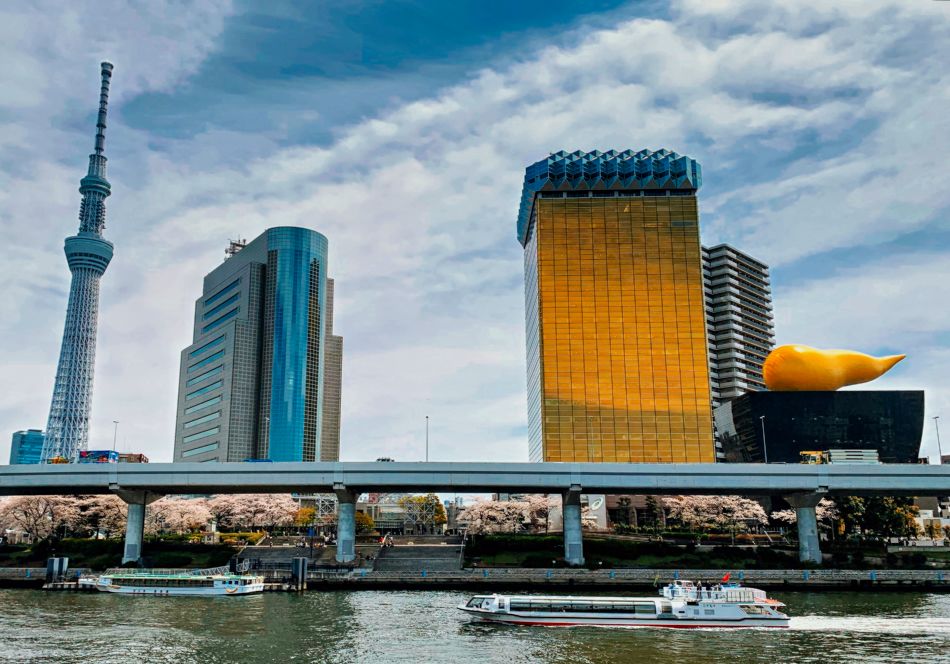 First & Fourth Floors
Before heading up to claim your tickets, take a quick stop on the first floor. There's a large digital picture scroll of Sumida River worthy of a quick glance. For you civil engineering & architecture buffs, there's a window where you can see part of the super thick steel framework that supports the 634-meter (2080 feet) Tokyo Skytree.
Head to the fourth floor to claim or buy your tickets. If you're really into modern art, there's a nice display of Tokyo Skytree renditions in the form of several mediums and interpretations by several artists. Otherwise, head for the main entrance for online-purchased reserved tickets. For same-day tickets, head to the North & West entrances and follow the signs. There are also storage lockers for restricted items and large luggage. Yes, they will check your bags at security before they let you into the elevator.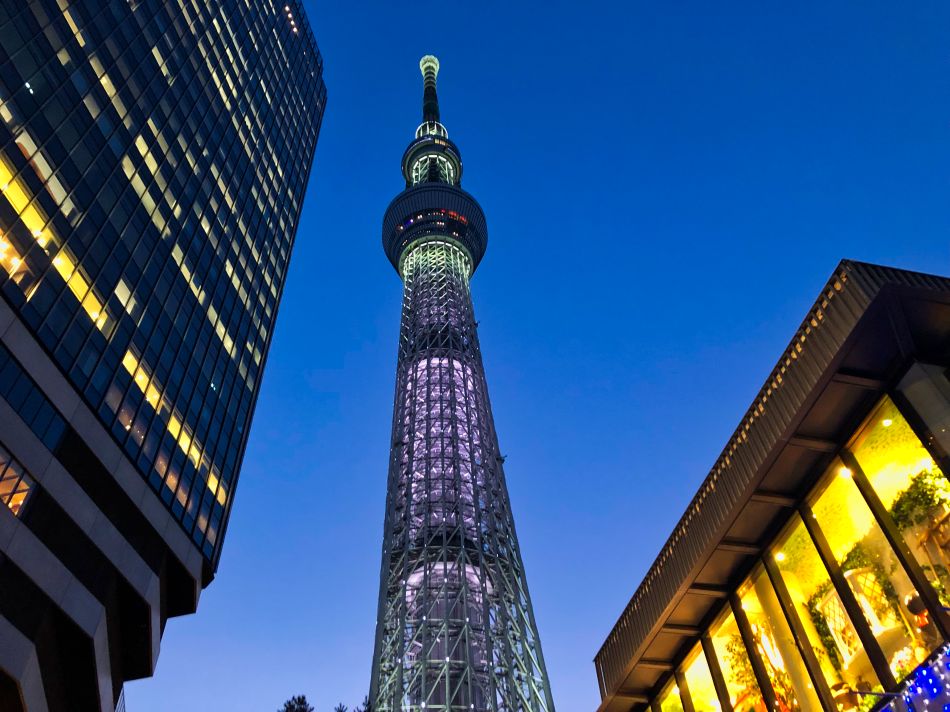 Floor 350 and the Tembo Deck
The elevator ride up Tokyo Skytree is super-fast.  The maximum speed is 600m per minute or roughly 22 miles per hour, which did cause my ears to pop. I found the three HD screens displaying information and an idealized view of Tokyo to be very pretty. A nice touch for the ride up.
I'll say this upfront, I really like sky views so I'm kind of biased here. Heights don't really bother me, and I'm easily entertained by most sky decks. I could spend hours looking down trying to identify landmarks and estimate distances. The Tokyo Skytree really delivered on its promise of distant and unobstructed views. I was delighted by how they incorporated technology through multi-lingual touch screen displays equipped with a zoom feature and detailed information on various objects in the Tokyo skyline. Combined with the Tokyo Skytree Panorama Guide on my iPhone, it was easy to discover all the famous places located in the area, both near and far.
For extra fun, I tried out the VR Stations. Intended for inclement weather days, the goggles provide a 360 view outside Tokyo Skytree in Hi-def 3D.
One of the most surprising things I found on the 350th floor of the Tembo Deck was a painted folding screen by the famous Edo Period artist Keisai Kuwagata. Entitled "Edo Hitomezu Byobu" the painting gives a similar view to what can be seen from Tokyo Skytree, except back in the 1800s when Tokyo was called Edo.
Like any good observation deck, there were plenty of photo spots and a souvenir photo service. It costs about ¥1,500 and comes complete with both digital and physical photos decorative display folder. In addition, they'll even use your own camera or smartphone to take a picture as well.
If you happen to go after 5 pm, projector displays will turn on and play a film right on the top half of the glass. The display roughly covers 255 degrees of the Tembo Deck, which is a rather fun way to watch a film as you walk around.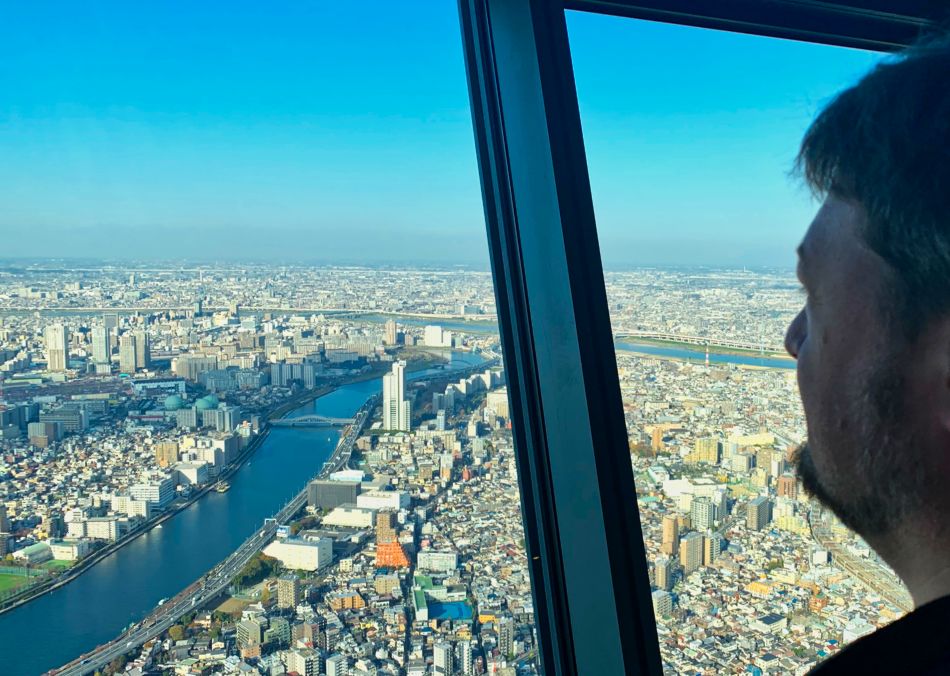 Down Floor 345 and Sky Restaurant 634 (Musashi)
The designated path leads you clockwise and downwards via escalators or stairs as you complete the circuit. Much of the views on the 345 floor are the same as the one above it, but here you can enjoy a fusion of Edo and French cuisine at the posh Sky Restaurant 634 (Musashi). Reservations are required. Lunch courses start at roughly ¥6,200 per person, and dinner course at ¥16,000. That's roughly $60 and $158 respectively. The price reflects the superb quality of food and the above-and-beyond service. If you do decide to treat yourself and that lucky someone, I assure you that you are not just paying for the view.
Following the circuit and down a set of stairs or escalators will lead you to the final level of the Tembo Deck.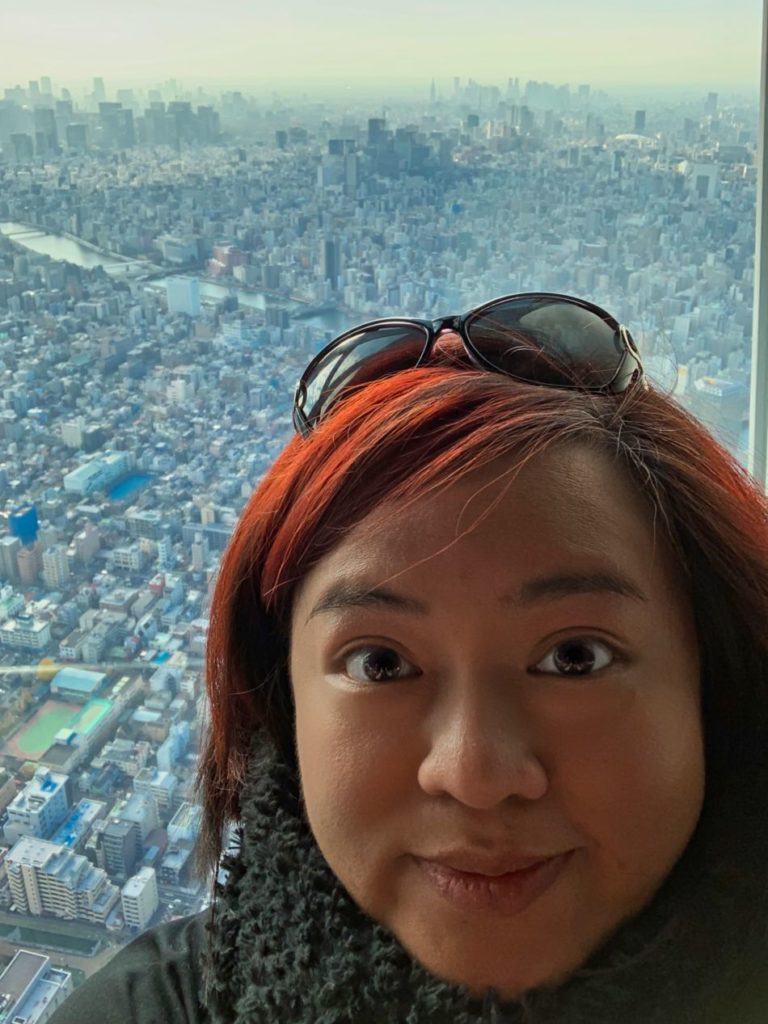 Floor 340 & the Glass Floor
Frankly, a modern observation deck isn't complete without a glass floor facing directly down. The area is only 2 × 3 meters, but that's big enough to take a nice selfie and post it on Instagram. They also offer a souvenir photography service as well.
There is also the Skytree Café on this floor, but I suggest skipping it since much of what they have to offer is way overpriced for the quality. But if you're looking to impress your significant other without breaking the bank, then go for that ¥850 ($8) ice cream parfait.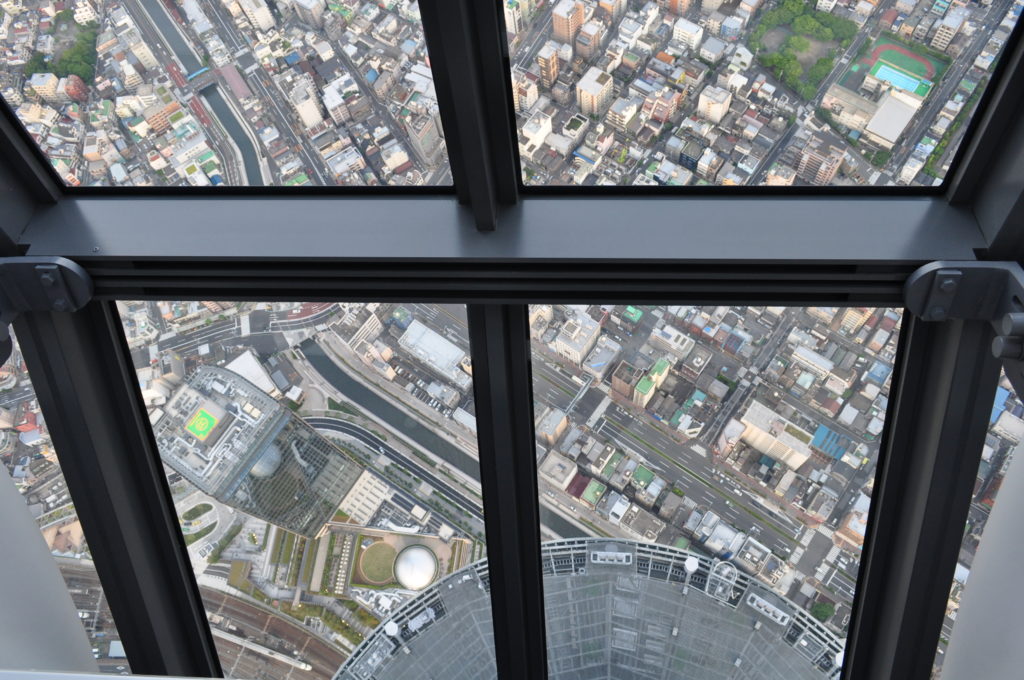 Floors 445 to 450 and the Tembo Galleria
If you bought a combo ticket, you'll need to head back up to floor 350 to take the elevators up to the 445 floor.
Tembo Galleria is a glass-covered path that starts from the elevators that lead up and around to the 450th floor. At night, it feels kind of like a tunnel of love, with the path lit up in colored lights and the sparkling lights of Tokyo outside. It's really the perfect place to take your hold hands with a loved one while enjoying the view. At the halfway point, there's another souvenir photography service if you fancy spending even more money.
At the final floor, there's an area called Sorakara Point, which marks your altitude at 451.2 meters above the mega-metropolis of Tokyo. To me, it looked like a stage built out of glass and animated LED lights – just a fun area to take photographs.
I know what you're thinking: an extra ¥900 or so just to walk up a slope. Personally, I think the extra yen is worth it. Especially at night and during the end-of-year illumination season, when everything is decorated with glittering lights for the holidays. Plus, as far as I could tell, there is nothing preventing anyone from walking back down and up again.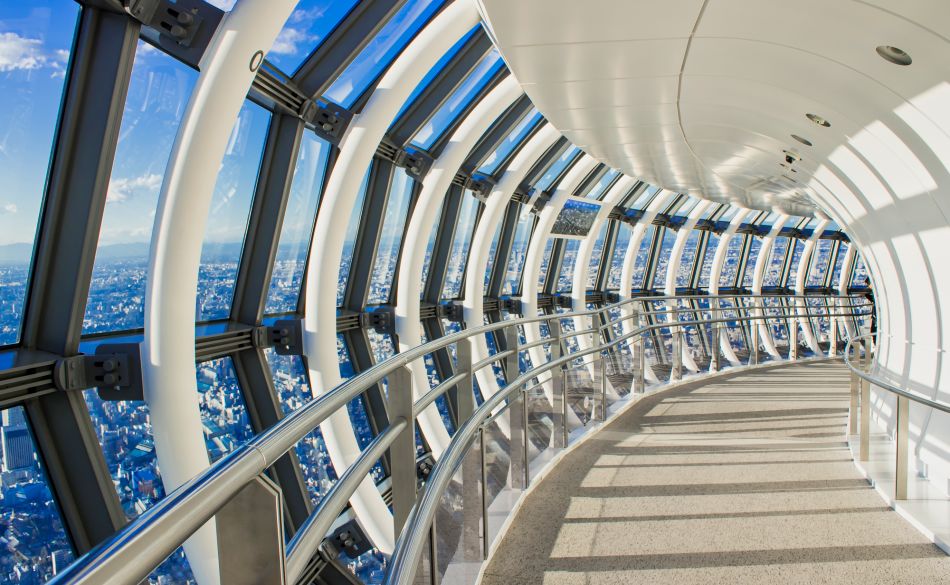 Sky Tree Terrace Tours
So, you've blown roughly ¥2,700 just to view both the Tembo Deck and Galleria, maybe a few extra on official commemorative photos, souvenirs, and overpriced ice cream. Why not go whole-hog and book a tour at the Terrance for an extra ¥1,700.  Located at 155 meters above the ground, the staff will take you on a guided tour outside to view the Skytree's structural supports. The tour guides only speak Japanese, but you can get a free audio device giving a similar lecture in English.
The trick to getting into one of these tours is to come on a weekday *before* you pick up or buy your tickets at the counter, and to check and see if the tour is available for that day. If it is, just simply ask to get into one of the time slots.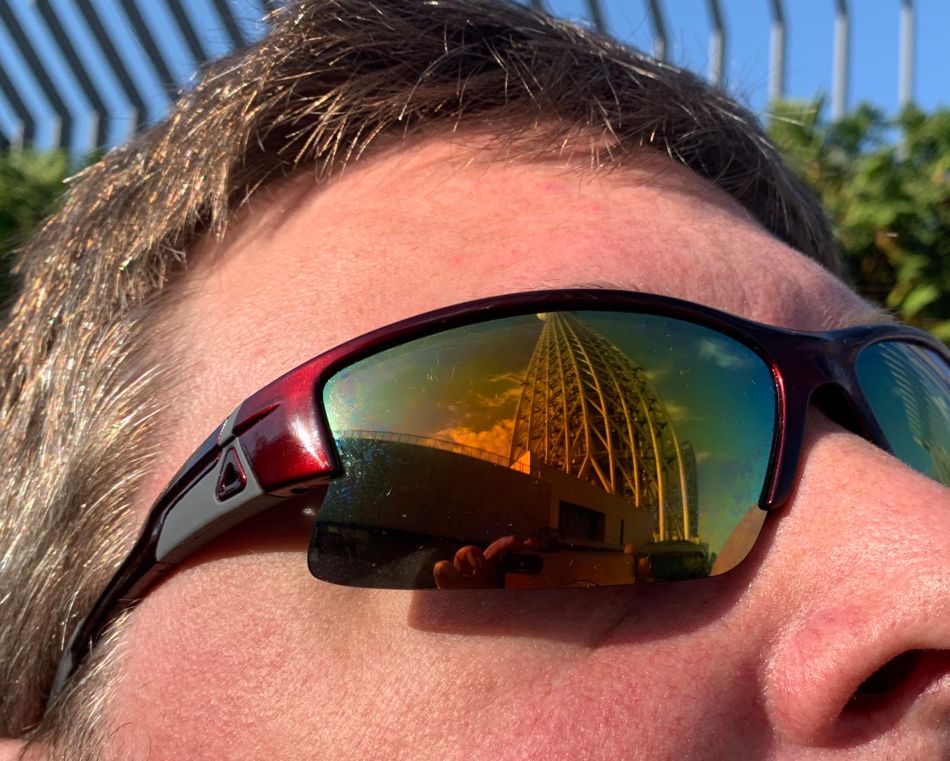 Pricy, But Fun.
I think we easily spent over ¥10,000 ($98 USD) Tokyo Skytree including food, souvenirs, and transport. It was also hard to resist some of the cute gatchapon machines scattered around the Skytree and down at the mall. I can see how one could easily spend twice that amount, especially with all the high-class restaurants and boutiques in the area tempting you at every step. But thankfully, there are plenty of cheap options and a lot of free things to look at too. So no matter what your price range is there's plenty of fun for everyone at Tokyo Skytree