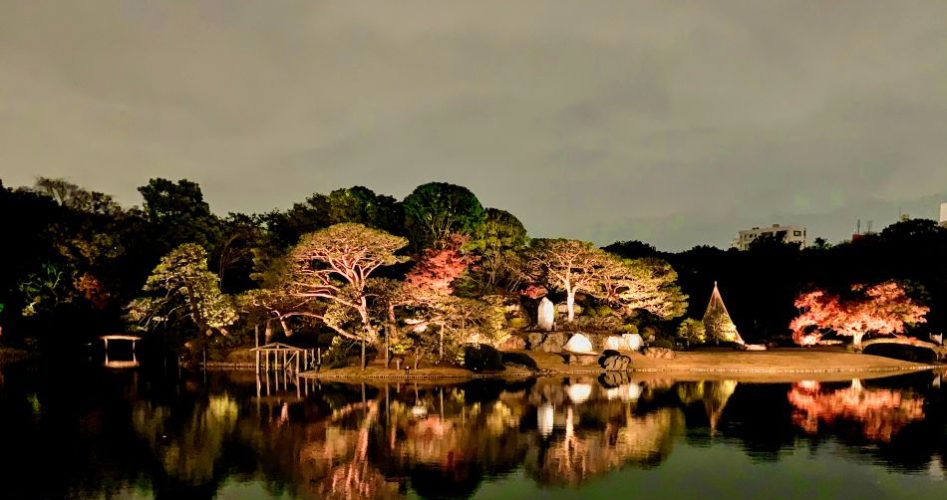 六義園
Rikugi-en
Address: 6 Chome-16-3 Honkomagome, Bunkyo City, Tokyo 113-0021
Nearest Station: Komagome Station
Website: https://www.tokyo-park.or.jp/teien/en/rikugien/
Hours: 9:00 – 16:00
Price: ¥300
Rikugien is one of those places where art mimics art. When the noble samurai Yanagisawa Yoshiyasu founded this garden some 300 plus years ago, he was inspired by classical Waka poetry and sought to give it shape within earth, stone, water, and plant. In fact, the word Rikugi refers to the "Six Forms of Waka Poetry" while en means garden. If you're lucky to find a full English translation of Kokin Wakashu (古今和歌集) perhaps you gain some insight into Yanagisawa's own ascetics – seeing as he was inspired by this literature published by an Emperor some 800 years before the Edo period samurai himself!
Today Rikugien is open to the public and is one of Tokyo's highly renowned gardens in addition to being designated as a "special place of scenic beauty" by the Japanese government.
When to Go
Spring – Weeping Cherry Blossom Viewing
From mid-March to early April, Rikugien lights up its prodigious weeping cherry tree (also known as the Shidarezakura) for an annual illumination viewing. The Shidarezakura is truly a massive tree and measures at 15m high and 20m wide. During the day, the tree looks like a soft pink cloud, while at night the lights create an illusion of cascading blossoms.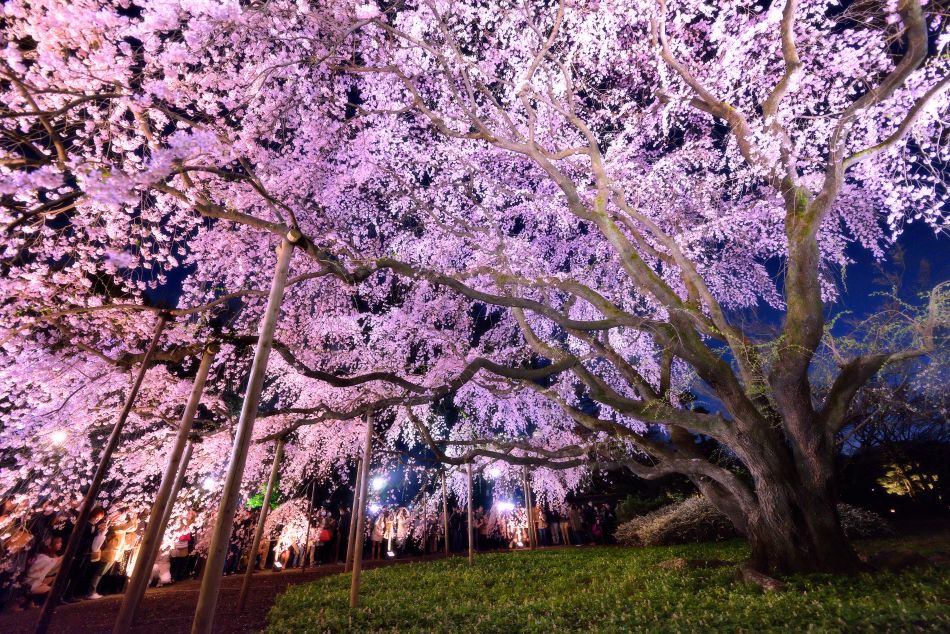 Summer – Hydrangeas
Japan has a very long history with the Ajisai (紫陽花) or Hydrangea. It was first cultivated in Japan. There is even a tea called ama-cha (甘茶 "sweet tea") made from the Hydrangea serrata, a specific breed whose leaves contain an ingredient which develops a sweet taste. A legend has it that on the day Buddha was born, nine dragons poured Amrita over him. So every April 8th, during the Buddha's birthday ceremony, monks will substitute ama-cha for Amrita and pour the tea over a statue of Buddha.
Sitting next to Rikugien's hydrangea trellis while enjoying a cup of ama-cha is the perfect way to enjoy the verdant green of high summer. Followed by a stop at the tea house to enjoy wagashi in the shape of hydrangea,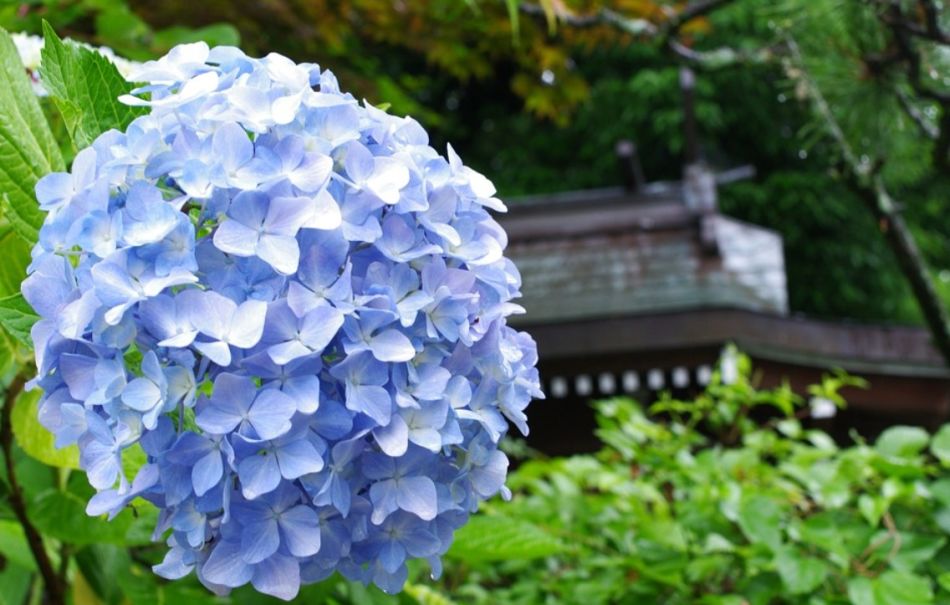 Autumn – Fall Foliage Illuminations
From mid-November to December, Rikugien holds its annual Autumn Evening Illumination. As the lights turn on at sunset, the central pond sparkles with the vibrant colors of fall as the water reflects the image of the trees and their foliage. Taking a stroll through the garden circuit will guide you through over 400 maple trees and all their glorious hues of vivid red, deep orange, or flashy yellow.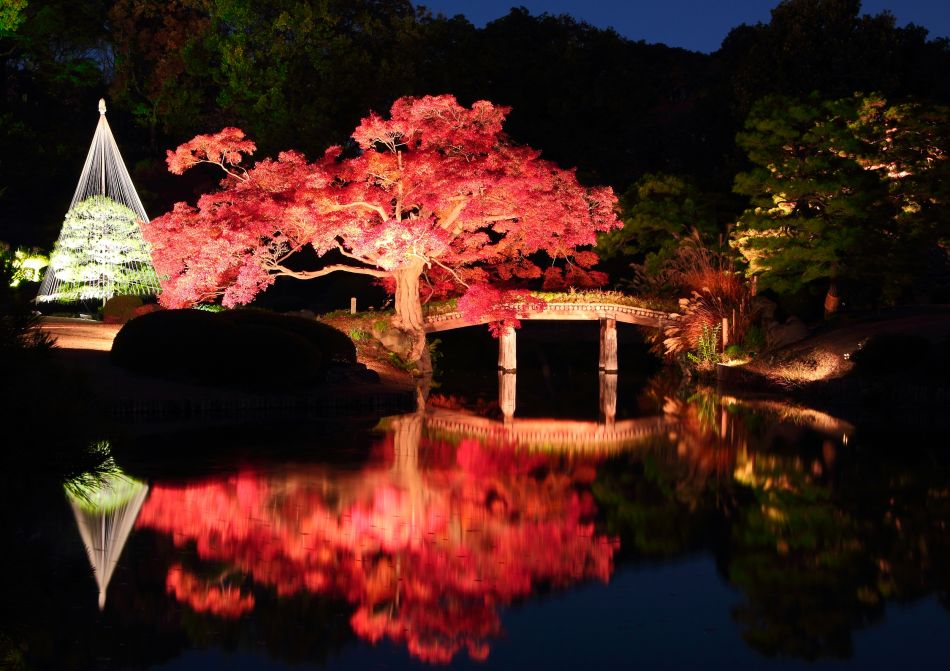 Rikugien Highlights
Tsutsuji-chaya – This Meiji era tea house was built using azalea wood. It avoided damage during World War II and is a style rarely seen today. This is one of the best spots to sit and enjoy the fall foliage of Rikugien.
Togetsukyo – Not to be mistaken for the one in Kyoto, this bridge was created from two large slabs of rock linking a man-made island in the middle of the lake. It was named after the Waka Poem: "Shadow of the moon moving at night and cry of a crane in the mash of reed in the sore of Waka, makes me feel so lonely."
Takimi-chaya – Takimi means "waterfall viewing" and next to this small tea house, you can enjoy the sounds of cascading water.
Horaijima – In Japanese and Chinese legends "Horaijima" is an island inhabited by immortals and represents a kind of paradise. Its often a feature found in Japanese gardens and is intended to be watched and pondered from a distance. So, find a bench near the pond shore and meditate upon this particular Horaijima.
Fukiage Chaya – Inside the gardens is a tea house that serves tea and sweet wagashi in shapes that reflect the season. In summer, the matcha will be iced and the wagashi in the shape of a hydrangea. In fall, the wagashi will be a maple leaf, while in spring they will offer a sakura shaped confection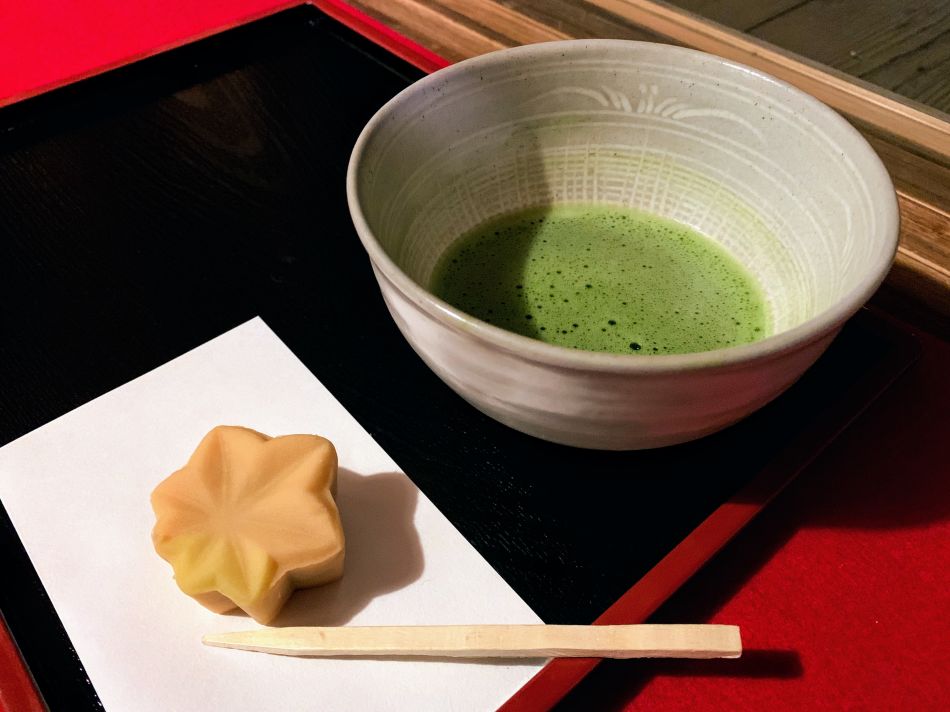 A Garden for Meditation & Art
During the few times I visited Rikugien, it was crowded with people. I have a feeling that if I had a moment of solitude, it would have been easier to enjoy the gardens and to meditate on the original creator's intention behind each vista and vignette. I also wish I had access to the poems associated with Rikugien. Regardless of these minor regrets, I felt that Rikugien represents a single facet of Japanese art and literature – all in a single perfectly groomed floriferous edifice – and that alone makes it worth visiting.