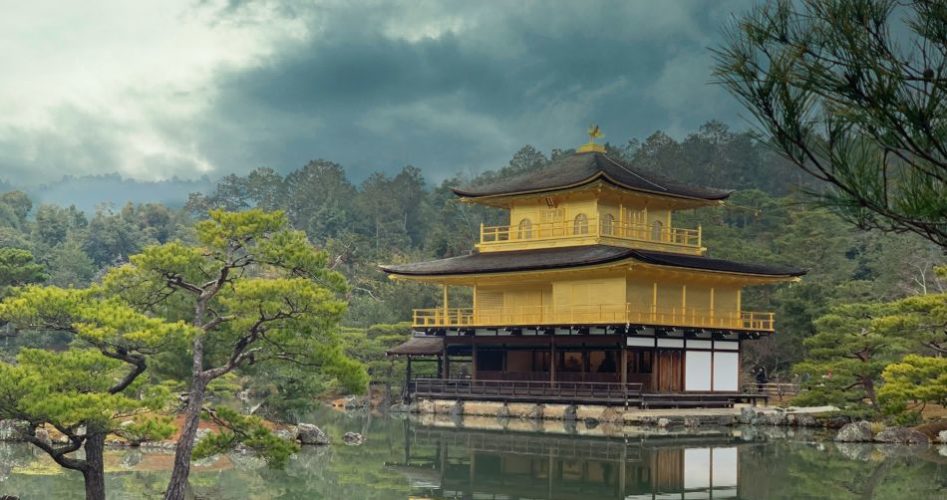 金閣寺
Kinkaku-ji
Temple of the Golden Pavilion
Official Name:
鹿苑寺
Rokuon-ji
Deer Garden Temple
Address: 1 Kinkakujicho, Kita Ward, Kyoto, 603-8361, Japan
Nearest Stations: Kita-Oji Station, Kitanohakubaicho Station
Nearest Bus Stop: Kinkakuji-michi
Bus Routes: Kyoto City Bus Routes #205 or #101
Entrance Fee: ¥400
Hours: 9:00-17:00
I've been told countless times, that a visit to Kinkaku-ji is a requisite when in Kyoto. Before visiting, I thought it was hype: something said to just snag the typical tourist. I did my research as I always do before a trip by reading over its current information and its history. Interestingly enough, I even found a fictionalized account written in the first-person perspective of the man who burned Kinkaku-ji into a charred husk in 1950. (Give The Temple of the Golden Pavilion a read if you're interested in true-crime novels.)
I'm happy to report, that I was pleasantly surprised by the Temple of the Golden Pavilion. I expected thick crowds and an overpriced venue with overrated souvenirs. Instead, I found a beautiful Zen garden with iconic Japanese structures. The entry fee was the low price of ¥400 ($3.80 USD) per person. Plus, showing up a few minutes before the gates open at 9:00 AM proved to be a good idea — the tourist crowds that I was apprehensive about were nearly non-existent.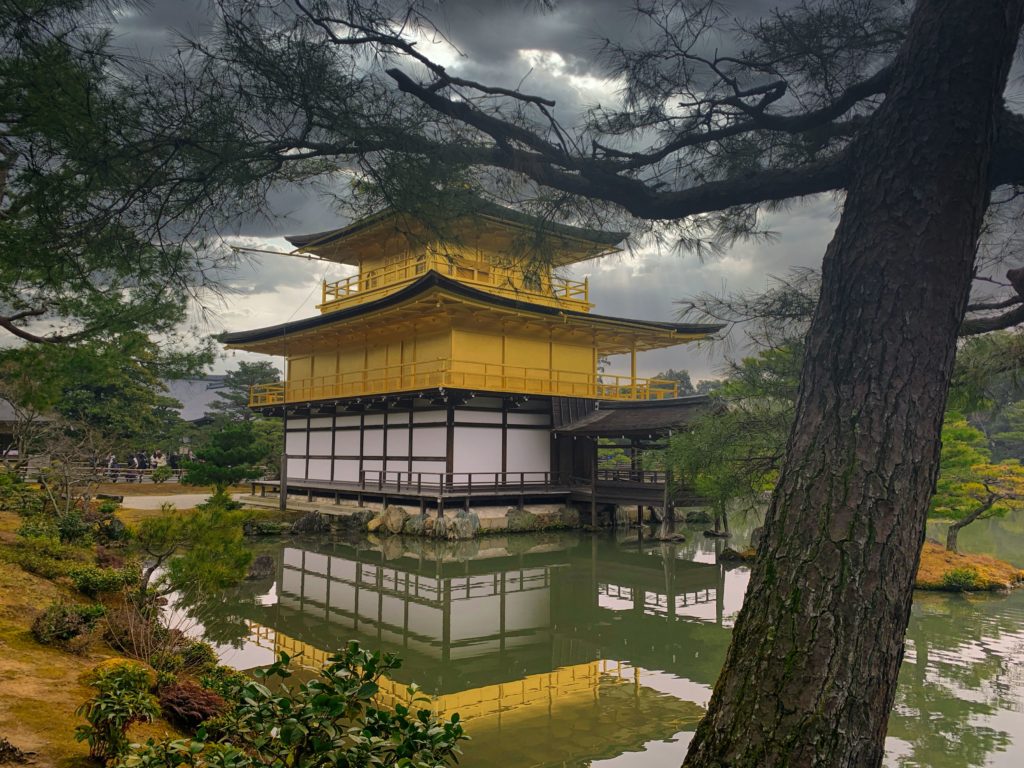 Kinkaku-ji History
Although the Golden Pavilion is over 600 years old, the land upon it has ties to religious traditions over 800 years. There are records and remains to date back to the Heian period (794 -1185 CE) indicating a temple complex with tombs, burials and cremation sites.
In the Kamakura period (1185–1333 CE), the wealthy aristocrat Saionji clan built a luxurious villa and named it Kitayama-dai (North Mountain Residence?). Although no documents remain of its design and construction, there are personal accounts boasting of a magnificent clan temple upon a land designed for "Taoist Immortals" along with an amusing "a forty-five-foot waterfall and a beautiful pond as blue as lapis lazuli." Sadly, by the end of the Kamakura period, the Saionji Clan fell out of wealth and the villa into disrepair.
The land caught the eye of shōgun Yoshimitsu Ashikaga, who bought and then converted the villa into his palatial retirement residence in 1397 CE. Yoshimitsu designed the Golden Pavilion as a relic's hall and the garden as "a paradise on earth." Much of the garden's design uses various elements of Ming Dynastic aesthetics. He planned to coat the outer surface of the Shariden Kinkaku with gold leaf, but only managed to coat the ceiling of the third floor before dying. Yoshimitsu requested that the residence be converted into a Rinzai Zen Buddhist temple upon his death and following his internment in 1408 CE, the complex was officially renamed to Rokuon-ji. Today Yoshimitsu is considered the founder of Kinkaku-ji.
Much of what you see at Kinkaku-ji today isn't of the original construction. The Golden Pavilion barely survived a war and fire in the 1470s but was burned a husk in 1950. The buildings and gardens have been faithfully rebuilt and restored over time. The latest restoration being in 2003 with extensive work done on the interior of the Golden Pavilion and roof.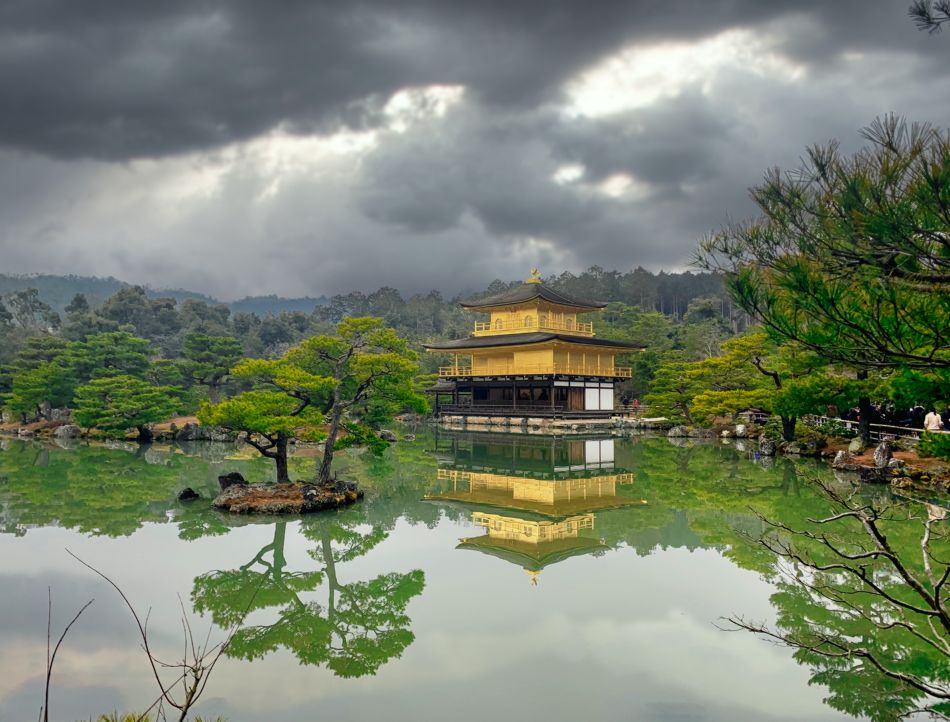 How to Visit Kinkaku-ji
Go Early, Go Midweek – Kinkaku-ji is a very popular tourist spot, I expected crowds when I set out even on a weekday morning. I felt rather lucky when I showed up a few minutes before 9:00 AM and there were only five people going in by the time the gate opened. But by around 11:00 AM the tour buses had dropped off more than four dozen tourists.
Stay in the Area – If you can I would suggest spending a night or two at a ryokan or hostel within walking distance. There are plenty of other things to do in addition to the Golden Pavilion. One of my few regrets while staying Kyoto was not taking my time to enjoy all the temples, gardens, and other cultural spots in Kita Ward.
Autumn Leaves – My first pick for which season to visit is when the leaves turn to fantastic hues red and gold. The season starts in mid-October and tends to peak in mid-November. November tends to be dryer than October, which is the tail end of the typhoons season.
Winter Snow Temples – Around January to February snow covers the temples, creating just a wonderful almost mystical landscape. Sadly, snow in Kyoto has been scarce in the last few years, and when it does the snow tends to melt quickly.
Spring Cherry Blossoms – From March to April is when Kyoto is splashed with the soft pinks and billowy whites of cherry blossoms. Its also jammed packed with tourists both domestic and international, such that driving or taking a taxi into any site let alone Kinkaku-ji is near impossible. Book your hotel months in advance area and rent a bike or walk.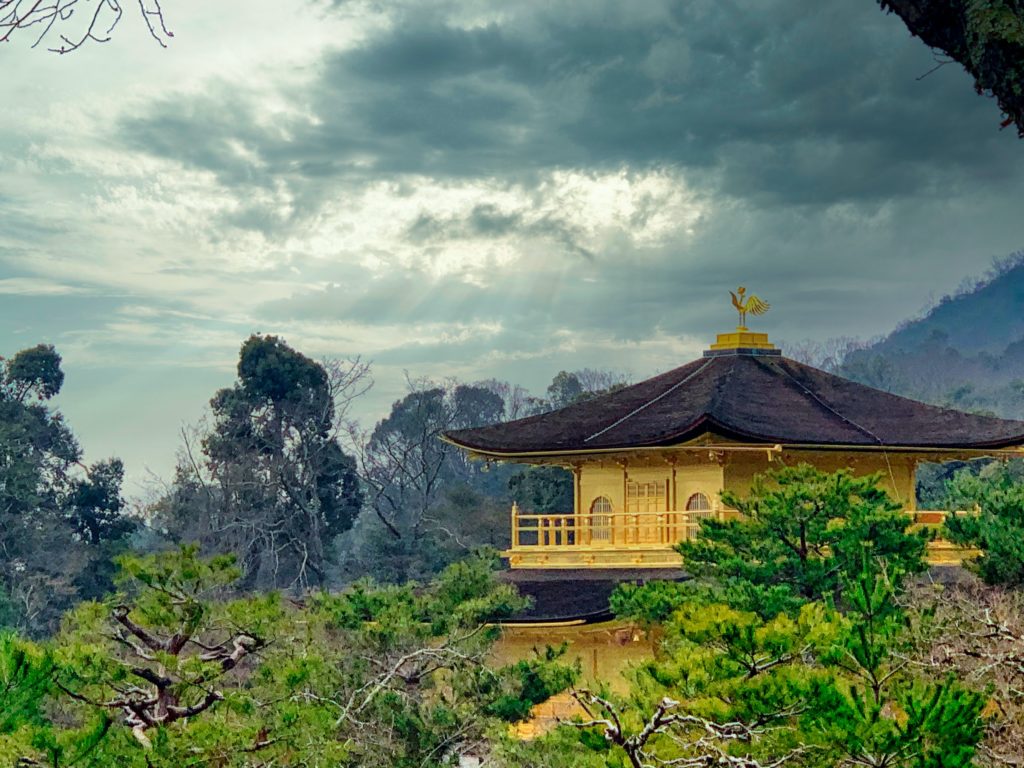 Highlights of Kinkaku-ji
Shariden Kinkaku – 舎利殿 金閣 – "Golden Reliquary Hall"
I'll say this now: no one can visit inside this building, but you can marvel at the exterior. I personally think that the best spot is from across Kyoko-ike Pond, where the Golden Pavilion reflects off the water. The second spot is near it through the pines. Frankly, it's a fantastic edifice to behold. Gold leaf gilds the third and second floors, contrasted to the cypress shingles of the roof. A brilliant bronze phoenix called Hō-ō, brings its benevolence as it descends from the heavens to its apex. The first story seems simple in comparison, due to the older architectural style known as shinden-zukuri, which was popular in 10th century Japan.
Rikushū-no-Matsu – 陸舟の松 – "Land Pine"
This pine is over 600 years old and is said to have been transplanted from a bonsai tree that Yoshimitsu himself trained. If you look from a certain angle the tree is in the shape of a sailing boat with its bow pointing to the west. Most visitors overlook this tree without a second thought. As for myself, it gave me a bit of a tickle that Rikushū-no-Matsu is roughly two and a half times older than the United States is as a country.
Fudo-do – 不動堂 – "Fudo-do Hall"
This is the only building in Kinkaku-ji that looks like a temple. The original 1225 temple burnt down in the 1400s, but later rebuilt in the late 1500s. Technically it is the oldest existing building on the grounds of Kinkaku-ji, even older than the Golden Pavilion which was burnt down in the 1950s and later rebuilt in the 1980s. Fudo-do is an active temple and regularly holds service for holidays and festivals.
Anmin-taku – 安民沢 – "Peaceful Resting Marsh"
In the middle of this pond in the back of the garden, is a small island. A top the mound rests a five-ringed stone pagoda known as Hakuja-zuka, or White Snake Mound, and houses the Saionji family spirit deity. The island is a perfect birding spot and often hosts several waterfowl such as grey herons, spotted billed ducks, and great egrets.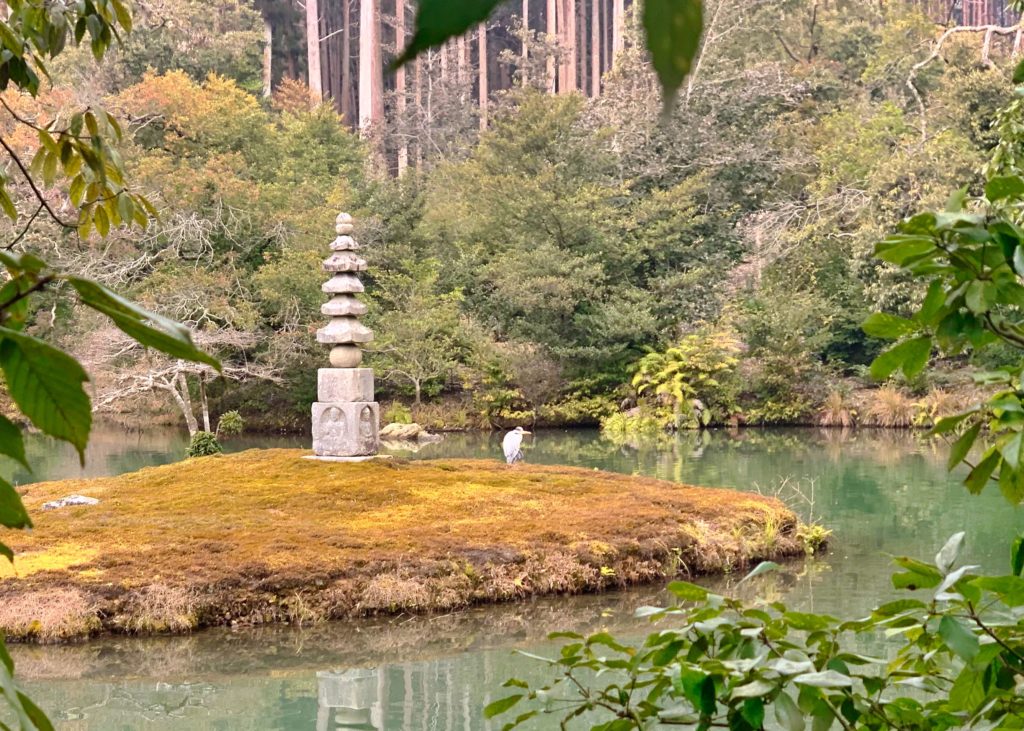 More to See in Kyoto's Temple District
Despite the hordes of tourists, Kinkaku-ji is assuredly worth the visit. Especially, if you take your time and include it in a multi-stop visit to the numerous temples and shrines in the Kinukake-no-michi area. Other locations I suggest visiting are Ryoan-ji, Ninna-ji, Myoshin-ji, Toji-in, Hirano Shrine, and Kitano Tenmangu Shrine. All of which are easily enjoyed either on foot or by bike.