Snack Attack Series
信州りんごキットカット ミニ
Shinshu Apple Kit Kat Minis
Package Style: Regional souvenir box, 12 kit kat minis
Price:  ¥900
Taste:  4/5
Smell:  5/5
Texture: 4/5
Value: 3/5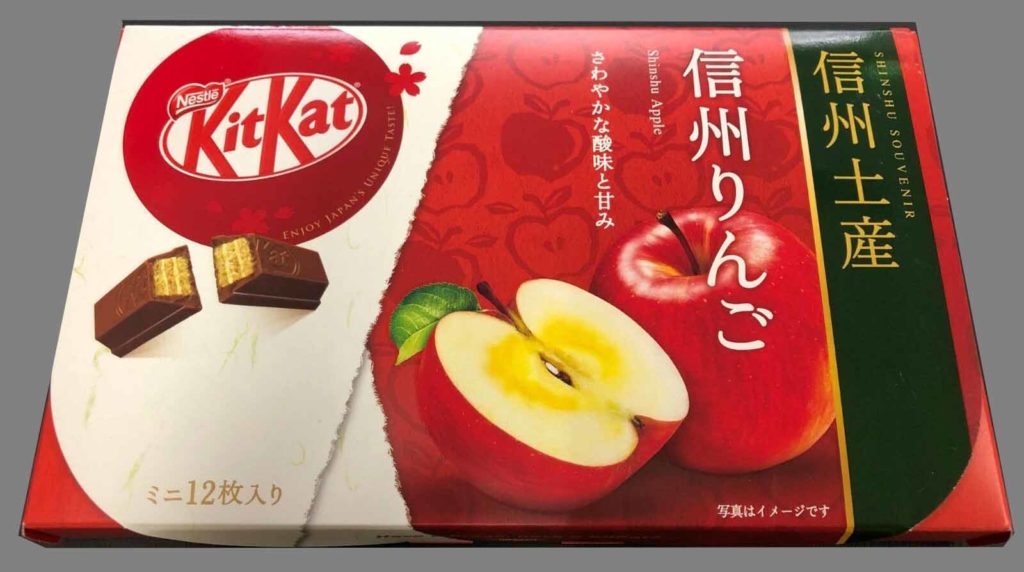 When I first picked up the box at the local confectionery store, I notice the bright red apples and then "信州" or Shinshu.  Where is Shinshu? My Japan geography is sorely lacking. I later learn that Shinshū, also known as Shinano Province, is the traditional name for Nagano Prefecture on the island of Honshu.
Upon opening the box, Sig immediately exclaims, "Certainly smells like apples!"  And boy does it ever! Although the fragrance of sweet apple is intense like a perfume, I find it very pleasant, and we found ourselves anticipating the flavor. Shinshū apples, also known as Shinano apples, from Nagano are famous for their juicy and crispness, making it refreshing eating, and even better baking, apple. Let me just say, if you can go Shinshū apple picking, do it – you will be rewarded with some of the best apples that Japan has to offer.
Japan loves its individually wrapped snacks, and Shinshu Apple Kit Kat Minis are no exception. I'm almost disappointed to only find a dozen. As with most things Kit Kat I want more, maybe it's a good thing that we'll only get six each between us, and that box costs roughly nine to ten dollars per box! *Sigh* Oh the difficulty of practicing moderation and self-control!
Opening one of the mini wrappers, I am delighted to find milk chocolate instead of white chocolate. I often find white chocolate very sweet, near treacly in flavor. Biting into it, I get that chocolate-covered wafer bar confection I expected, but while the odor of apple wafts into my mouth and my nose. The flavor of the creamy milk chocolate and the apple is well-balanced and absolutely delicious. 
Shinshu Apple Kit Kat Mini Ingredients: sugar, whole milk powder, vegetable oil, cacao mass, flour, lactose, cocoa butter, apple juice powder, cocoa powder, yeast, emulsifier, fragrance, baking soda, yeast food, acidulant, (some of the raw materials include soy)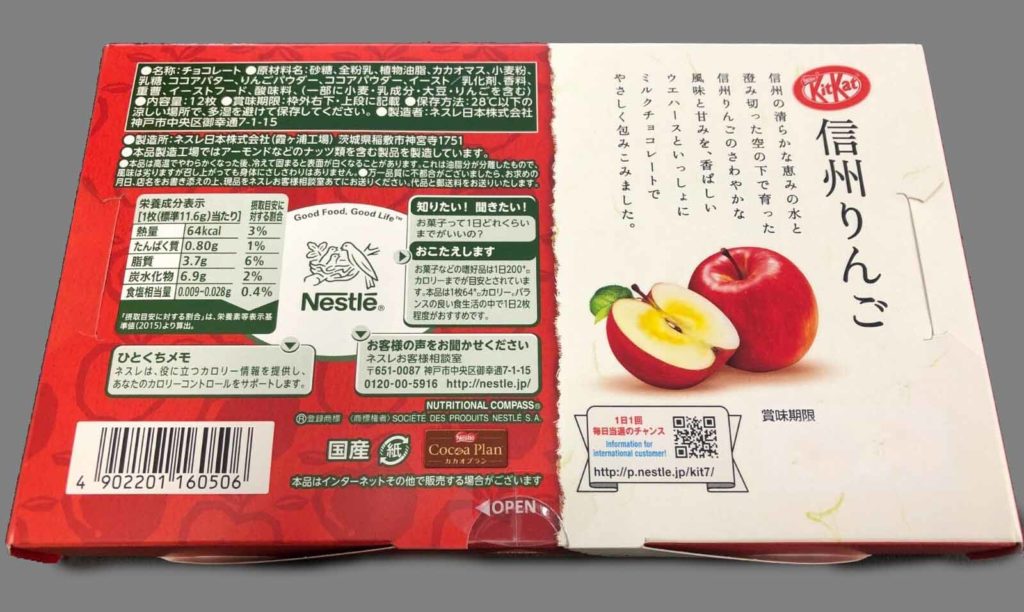 Currently you can buy Shinshu Apple Kit Kat Minis on Amazon.co.jp