酉の市
Tori No Ichi
When we lived in Tokyo, we really wanted to experience a matsuri or festival — Tori No Ichi ended up being our first.  So on a brisk November afternoon, we set out to the Otori Shrine in Asakusa area within Taito Ward of Tokyo.
When we reached the Tori-no-ichi Fair, a lively and loud shoulder-to-shoulder crowd greets us. The grounds are packed with colorful stalls selling festive "good luck rakes." Food stands, billowing with steam, assault us with savory and sweet odors. Wandering and slightly confused we couldn't help but wonder: "What is it all for?"
What is Tor-No-Ichi?
Torinoichi, Tori No Ichi, and Tori-no-Ichi.
Regardless of how its spelled in English, its true name is 酉の市 and in short, "Tori No Ichi" means "Market of the Rooster" or "Rooster Fair."
酉 – "Tori" means "The Rooster." It also means "bird,"  but this specific kanji stems from the Chinese character for the tenth zodiac sign.
の – "No" means "of"
市 – "Ichi" means "market" or "fair."
Every November on the Day of the Rooster (according to the old Japanese calendar system), over 30 Otori Shrines throughout Japan hold a Tori No Ichi.  Just like the Chinese zodiac animals, Rooster days happen every 12 days, so a Rooster Market usually twice or three times so long as it falls within the month of November.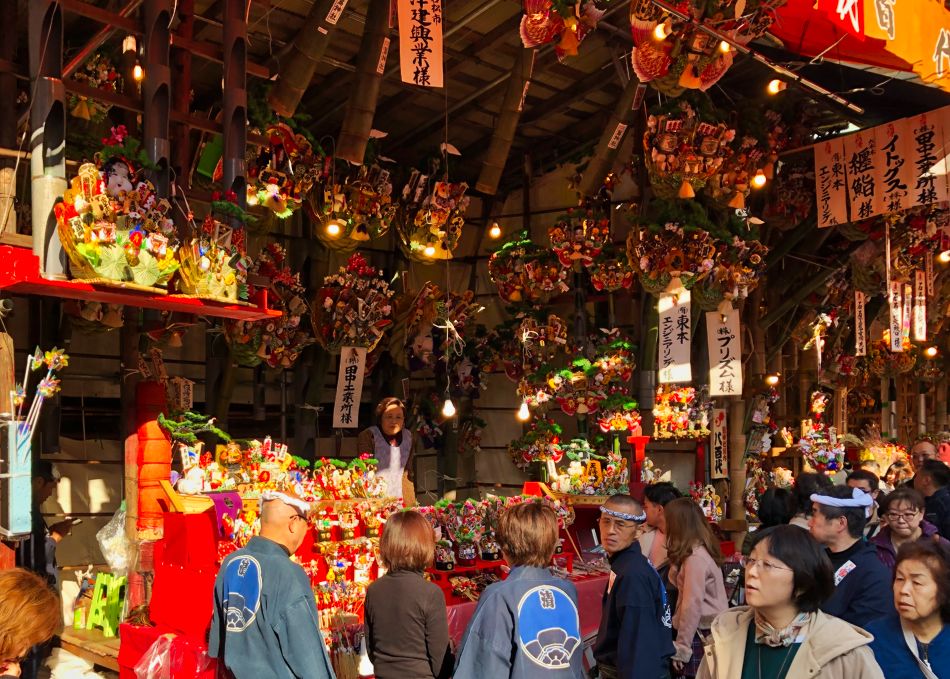 The Ritual
Hours before midnight, crowds line up the main gate hundreds long and 4 to 5 people wide consisting of families or business groups. When the clock ticks over, the shrine announces the opening with a loud drum. Inside the shrine, priests say prayers and opening rights, all of which is quick and takes no more than 15 minutes. As monks ring the bell, additional priests clade in white pray over the crowd for good luck and good health. All of this is mostly going unseen by the vast crowds outside, only to be witnessed by attendants inside and glimpsed by those just beyond the shrine thresholds.
Just outside the shrine itself is obscured by a wall of lit paper lanterns, each inscribed with the names and businesses of those who donated to the shrine. The air is so thick with incense supposedly warding off any bad spirits and misfortune. The deep rumbling of drums seems to cut through the din of crowds, announcing the start of Tori No Ichi.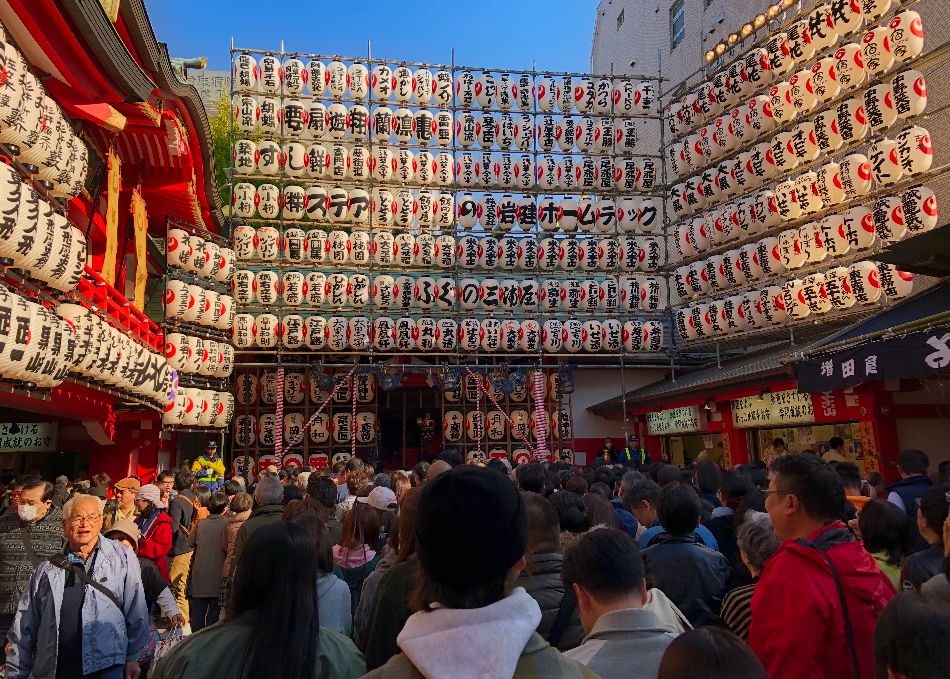 Lengthy lines of people pass under the tori gate, while two shrine officiants wave a purifying Ōnusa (a kind of wand with paper streamers) over them. When worshipers reach the front of the shrine, they throw their coins in the collection box, ring the bell, and then pray for good fortune. They then move off to the side either to buy additional fortunes or look for a "kumade" or rake to buy.
Kumade – Rake Talismans of Good Luck
After making our offering at the shrine, we move off to ogle at decorative rakes or kumade. The kiosks come big and small, each packed to the brim with rakes of all sizes and of various degrees of ornateness.
Business owners big and small especially make it a point to attend Tori No Ichi every year to help their businesses "rake in" wealth and good fortune. At a large shrine, such as the Otori Shrine in Asakusa, there are over 150 kumade vendors, each offering their special designs on a lucky bamboo rakes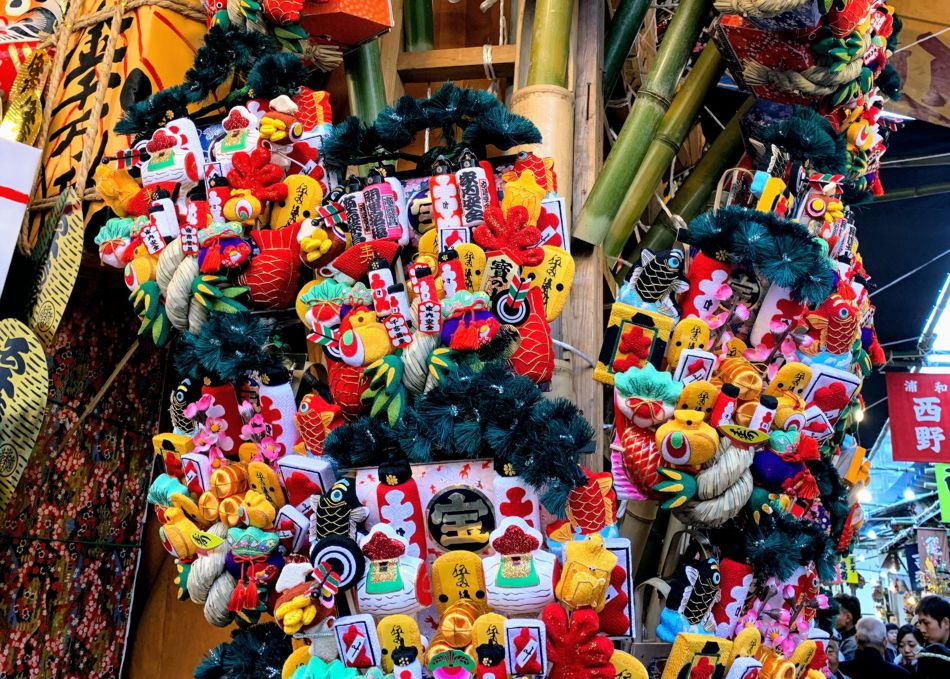 A kumade talisman is made of a base bamboo rake, very much like the kind you use to sweep the leaves off lawns. Many are decorated with a chubby-cheeked female mask, which is in the likeness of Otafuku, the Goddess of Mirth. Other decorative good luck charms and symbols of wealth include:
Maneki Neko – Beckoning Cat, usually a gold-colored with the left paw raised and a gold coin in the right. This is in the hope to bring in more customers while wishing for wealth and prosperity.
Daruma Doll – A hollow, round, Japanese traditional doll modeled after Bodhidharma, the founder of the Zen tradition of Buddhism. Daruma is a talisman seen as a symbol of perseverance and good luck.
Sho Chiku Bai or "Three Friends of Winter" – Pine, bamboo, and plum blossom. These three symbols represent steadfast longevity (pine), vigorous perseverance (bamboo), and resilience (plum).
Tai or "Sea Bream" – Tai (鯛) is the same phonetics as the Tai as used in "omedetai" which means congratulations, or happy.
Crane and Turtle – Both animals are considered symbols of longevity. There is a Japanese saying, "'tsuru sen-nen, kami man-nen", which means "the crane lives 1,000 years, the turtle 10,000"
Shichi Fukujin or "Seven Lucky Gods" – many anime fans will recognize who the seven lucky gods, but in Japan, they important figures in Buddhism often invoked for good luck and fortune.
Kazari Goma with Reverse "Horse" Character – A large decorative wooden plaque in the shape of a shogi piece. If found on a rake, the kazari goma will have the kanji Hidari Uma (The Left Facing Horse). So instead of reading "Uma" for "horse" it would be said as "Ma-u" which means dance. Traditionally, a dance was performed for celebrations, and thus it became synonymous with good luck.
Watching a sale of a rake for the first time is a treat in itself. The buyer and seller engage in a passionate mock haggle battle over a selected rake, going back and forth until a price is settled. After the show is done, the buyer pays the original price. She then refuses any change given by the seller, all while saying "This is a gift for you."
Buyers who follow this traditional faux haggling ceremony will be treated by a three-fold clapping chant by the rake vendor owner and staff over the rake itself – as if pouring good luck into it by sheer will. This chant and rhythmic clapping can be heard in threes everywhere in the kumade vendor area:
"ヨッ!ソーレソーレソーレッ!"
"Yooo! Sore! Sore! Sore!"
Congratulations! Once the clapping chant is complete, the buyer takes the luck infused and often oversized amulet to their business to put on display.
History of the Festival of the Rooster
Three hundred years ago, when Tokyo was known as Edo, the first Tori No Ichi was held in a hamlet called Hanamata-mura, which is now known as Hanahata-chō, Adachi-ku, Tokyo by. Farmers and Ujiko (worshipers) would gather and hold a thanksgiving festival to the local diety, Ōtori Daimyōjin. Families would offer roosters or other kinds of live birds to the shrine, then hold a market to sell their goods and produce. Worshipers would then set the birds free the next day in front of Asakusa's Kannondō temple, now known as Senso-ji temple.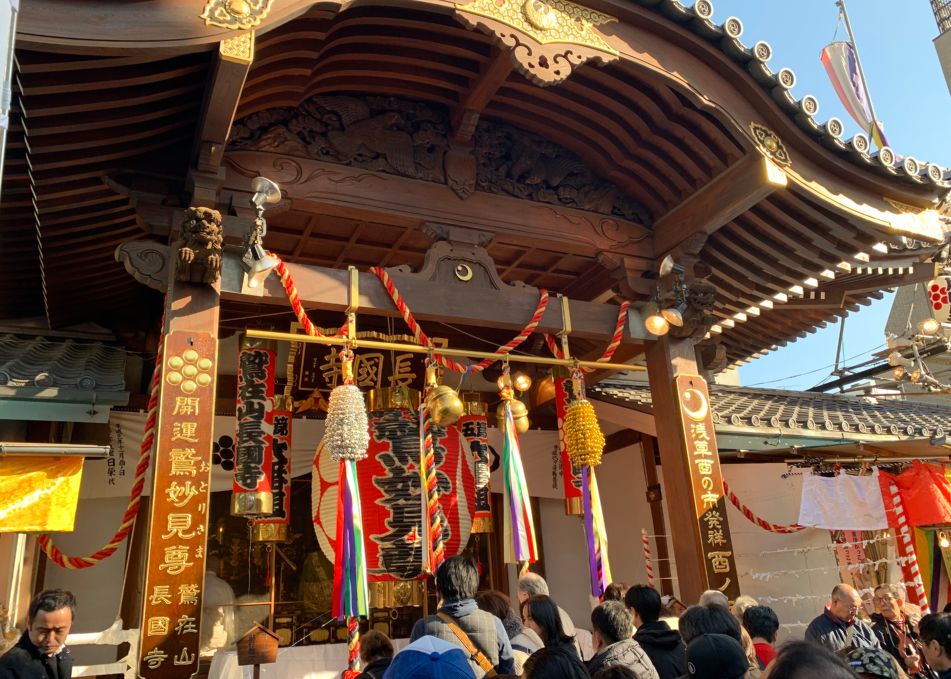 Yatai – The Food Stalls
As per tradition, shrines that celebrate Tori No Ichi would offer space to merchants and allow them to hold a market. Today that takes place in the form of Yatai or "food stalls."  It just wouldn't be a Matsuri or "festival" without food stalls, and a large festival like Asakusa's Tori No Ichi will have hundreds of Yatai.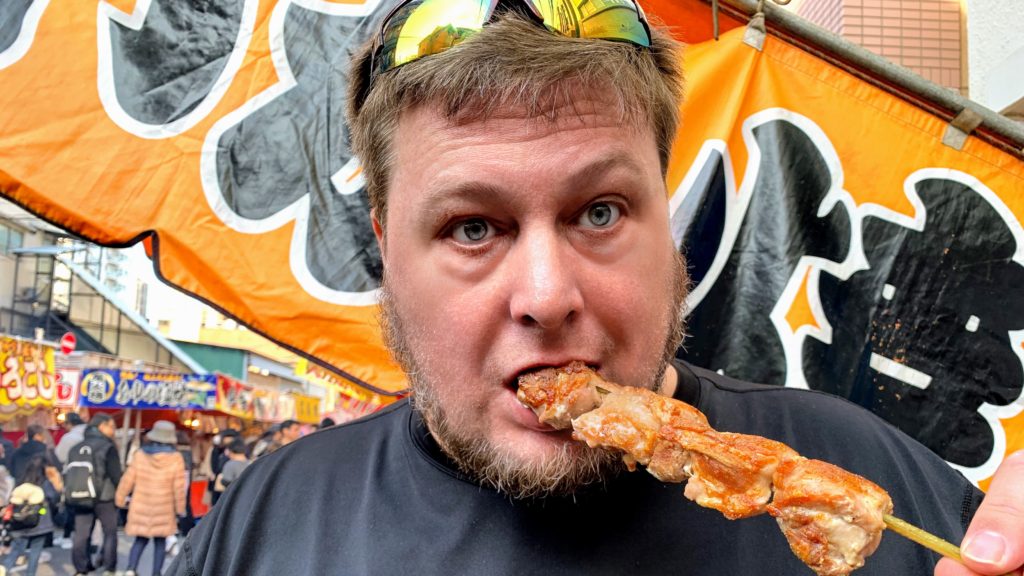 There are tons of Matsuri foods and it merits its own blog post of its own, but three treats are worth mentioning here because they are specific to the Tori No Ichi festival.
Kashira no Imo (頭の芋) – Literally means "head of taro" and is usually steamed. Worshipers ate its corm in the hope that they would become a leader or "head" of a prosperous business.
Kogane Mochi (黄金もち) – "Golden Rice Cake" usually made with Japanese millet, which gives it a gold color. This Edo period sweet was said to help bring in wealth but has gone out of style since then. Today they sell Kiri-Zansho (切山椒) in its place.
Kiri-Zansho (切山椒) – "Cut Pepper Rice Candy" A chewy rice candy made from a mixture of sugar, powdered Japanese Sansho pepper, and rice flour. According to the ladies at the stand, eating Japanese Sansho Pepper will help prevent catching a cold. The recipe is below.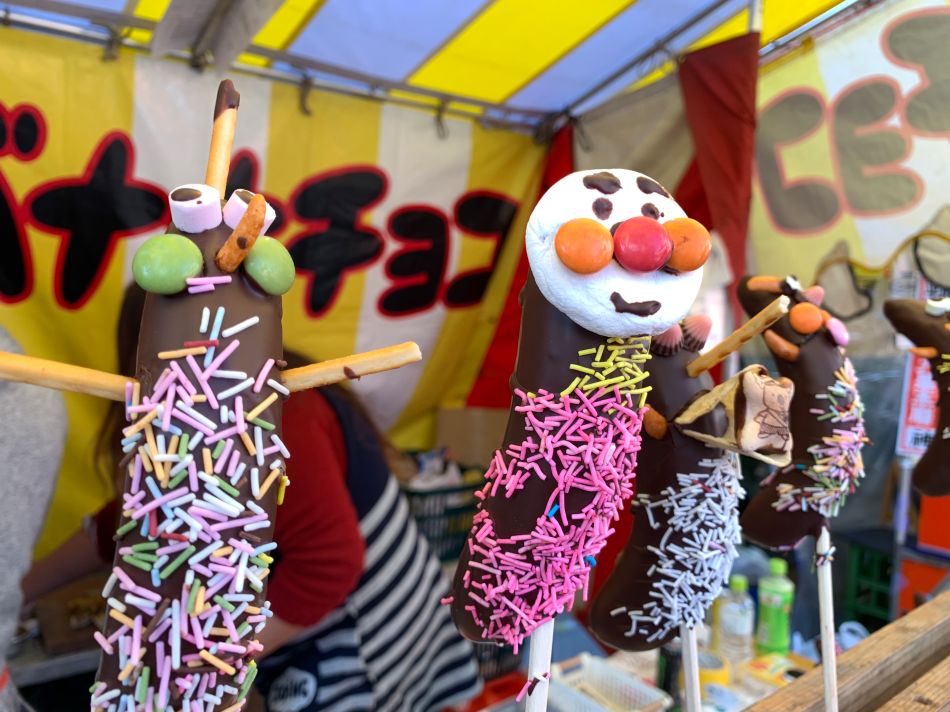 An Old Tokyo Festival Worth Celebrating
Even though the first Tori No Ichi of the November is considered auspicious, it is always held a second time, and sometimes a third, later in the month. Regardless of when you go, this festival is a fantastic way to dive deep into Japanese culture, while wishing for good luck and maybe a rake of fortune to bring home!
Kiri-Zansho (切山椒) Recipe
600g Glutinous short-grain Japanese rice flour
250g Unrefined dark brown sugar
250g Light brown sugar
2 teaspoons Japanese Sansho Fine-Ground Pepper
½ teaspoon Salt
3 cups Water
Hardware
Steamer
Sautee pan
Mixing Bowl
Mixing Spoon
Directions
Directions
1. Over medium heat, mix salt, sugar, and pepper in a pan in water until sugar is fully dissolved. When the sugar has melted into a dark syrup turn off the heat, let it cool down until it's safe to touch.
2. Add the glutinous rice flour to the sugar syrup and knead well. The mixture will become stiff, but still pliable.
3. Flatten the flour-sugar ball to about 1 to 2 cm thick and such that it fits into the steamer. Place into a paper-lined steamer and steam for about 15 minutes.
4. Remove from steamer and let cool. Then sprinkle with potato starch and cut it into strips. Make sure to coat strips in starch such that the candies don't stick to each other. The candy should be soft, but a bit firmer than mochi.