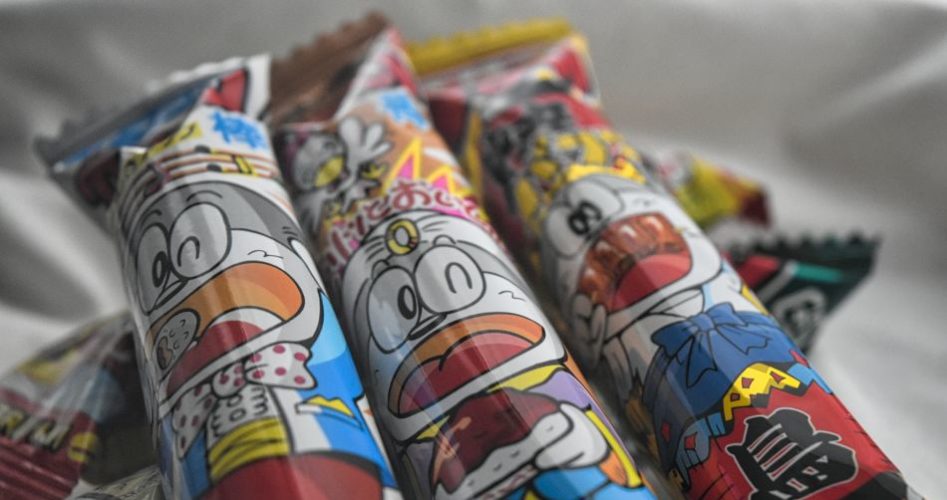 うまい棒
Umaibō
"Delicious Stick"
I'm not into kid snacks and sweets. In America, sweets for children are usually too sweet and dyed in unnaturally bright colors that make me question its cancer-causing potential. Meanwhile, savory snacks are too salty and usually too starchy. Through my teen years, I often picked puff corn snacks as my go-to junk food. After a lengthy discussion with a friend on Japanese junk food, I was told to visit a dagashi shop (Japanese candy shop) and try Umaibō.
Given my nature, I'm not a person who goes blindly into dagashi shop. Research must be done!
History of a Delicious Stick
Umaibō literally translates to "delicious stick." What kind of stick is delicious? A cylinder of puffed corn which kinda looks like a short stick when you hold it. To be honest, it's more of a tube since its hollow through the center, but according to the packaging, it makes the snack more "サクサク" (sakusaku) or crispy. I also suspect that the tube design also creates a stronger product which prevents it from being crushed during transportation and probably improves the final texture by allowing it to be cooked evenly from the inside.
Umaibo was first produced by the Risca Corporation and distributed by Yaokin Co. in 1979, making it a snack that's almost as old as I am! At the time, Umaibō sold for the cheap price of 10 yen per stick. Much to the delight of Japanese children and their parents, that price hasn't changed for the last 41 years. But according to Japan Wikipedia, the weight of Umaibō was ever so slightly reduced over the decades as much as 3 to 5 grams less than the original 1979 product due to the rise in the cost of raw materials.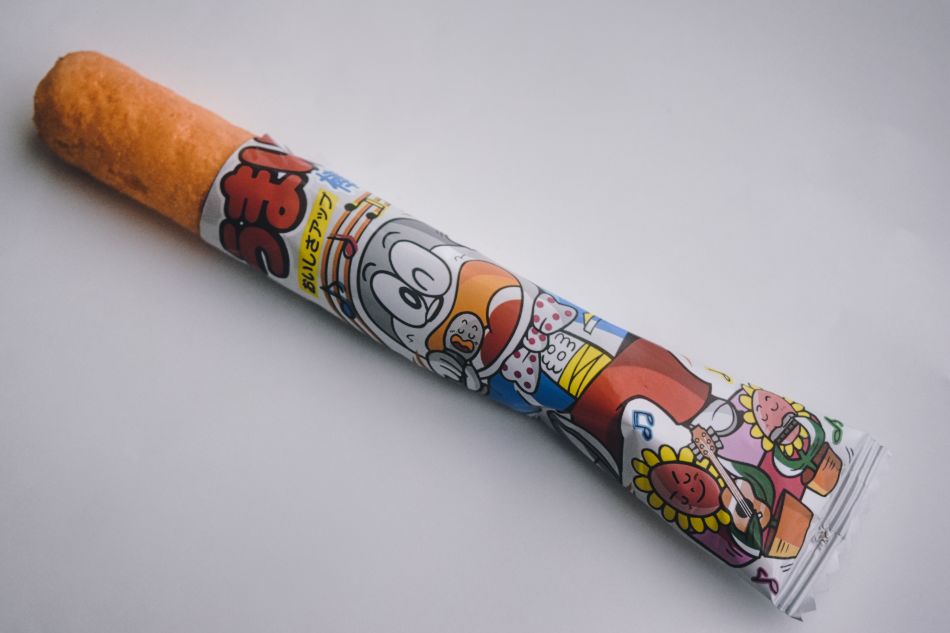 Umaibō Mascots – Are They From Outer Space?
The mascots of Umaibō really stand out, far more than American advertising characters. Each character seems to have their own persona complete with birthdays and hobbies – at least according to the official website.
Umaemon (うまえもん) – The main mascot of Umaibō is a round-headed gaping-mouthed character usually dressed in a costume. According to the Umaibo website, his hobby is cosplaying which explains why each Umaibo wrapper features him in some kind of costume. Umaemon is totally different from Doraemon (blue color, red nose) because he is grey in color and lacks whiskers.
Umami-chan (うまみちゃん) – This anime girl sporting a half-Umaibō hat first showed up in 2017. She's the long-lost 17-year-old sister of Umaemon and uses an Umaibō for a microphone. As far as I can tell she shows up on the cover of large bags with 30 Umaibō inside and is typically bought by adults at Don Quijote stores. She has her own website, theme song, is found on Instagram, and posts on her Twitter account. Yes, she knows she doesn't look like her brother and often points that fact out.
Umicheal (ウマイケル "Umaikeru") – Umami's pet cat debuted in 2018. Umicheal looks like a cat with a face that looks just like Umaemon. According to his bio, he's a spy from space sent to investigate Umaemon and Umami because he suspects that they are aliens. Yeah. Space spy cat.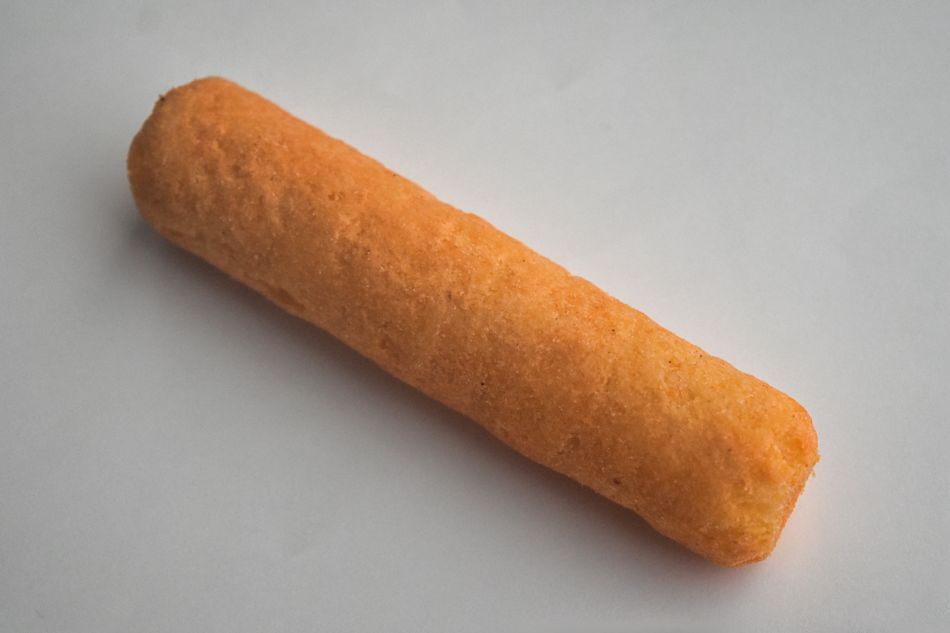 Umaibō Flavors
Let's get back to the snack. As far as I can tell there are 15 to 16 different "regular" flavors of Umaibō that can be found in stores in Japan. There are also regional flavors as well, meaning they can only be found in certain areas of Japan. And then there are "limited release" flavors, which only run for a single season sometimes never to be seen again.
No, I haven't tried all the Umaibō flavors. But I might try one or two as I see them. I will reserve eating all the flavors in one go to the younger Japanophiles. Getting high blood pressure from all the salt isn't worth it. But just for giggles, I'll list all the flavors of Umaibō here:
Umaibō Regular Flavors
Mentai – cod roe pickled in chili peppers
Corn potage – creamy corn soup
Cheese
Pizza
Teriyaki Burger
Salami – One of the original flavors
Easy salad
Chicken curry
Tonkatsu sauce – Another original flavor
Shrimp and mayonnaise
Takoyaki
Chocolate
Beef tongue
Natto
Sugar rusk
Premium Mentaiko
Premium Mozzarella & Camembert
Premium Japanese style steak with wasabi sauce
Umaibō Regional Flavors
Kirtan Snack (Akita Prefecture only)
Monjayaki grilled taste (Tokyo only) – Monjayaki is a pan-fried batter similar to okonomiyaki, but with different liquid ingredients
Honey Kabayaki Sauce (Shizuoka Prefecture only) – a soy grill sauce used on grilled eel
Okonomiyaki (Kansai only)
Hot pepper noodles (Kyushu / Western Yamaguchi Prefecture only)
Delicious Beef tongue salty (Tohoku only)
Sugar cane (Okinawa only)
Cinnamon apple pie (Tokyo only)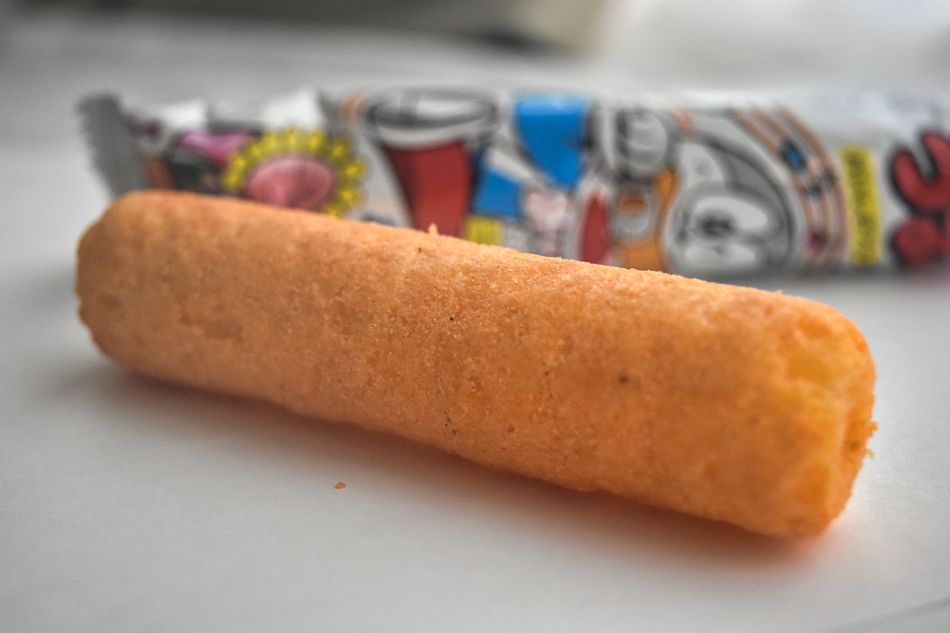 Eating a Umaibō
To date, I've only tried Umaibō twice: Corn potage and cheese flavors. Both were savory. So the corn potage tasting like sweet corn, while the cheese tasted kind of like Cheetos, but a bit sweet. The texture of an Umaibo is certainly crispy but also dry. Eating too much in one mouthful sometimes uncomfortably desiccates the mouth.
Upon opening the package, I found a rather chonky corn puff – about 2 cm in diameter and 10 cm long. Biting into this super crispy awkward snack was certainly tasty, but also messy since it produced a lot of crumbs. Its hardly finger food yet alone easy eating for kids.
I also discovered instructions on how to prepare an Umaibō for "beautiful eating." I presume so that kids and dainty ladies can eat the snack without too much of a mess. Here are the translated instructions:
First, place the Umaibō on the table.
Place your hand flat over the package (middle finger aligned with the Umaibō).
Press down as you would give a heart massage and stop when you hear the Umaibō break inside.
Open the wrapper, and you have a Umaibō split lengthwise in four!
Here's the original illustration posted by Mr. Watanabe:
Sig's tasting commentary
Sig here. So, Anne asked me to try some of these out. I had cheese, Salami, and Tonkatsu. The cornmeal is fried so that it is very light and airy, and quite crispy and stiff. It crackles and then melts quickly in your mouth. The flavor is pretty much all on the outside of the stick in the form of a salty powder.
The flavors do a good job of evoking what it claims to taste like, though always salty and a little sweet. The consistently light texture of the snack is nice but feels a little insubstantial. I'm not a big fan but these would be a great thing to offer at a party for people to try.
Grab some of these things to try out: Our Amazon affiliate link for a variety Umaibo pack.
A Fun Japanese Snack
Overall, I find Umaibō adorable and the variety of flavors interesting. I kind of want to try them, but I also worry about my health. If you've tried the other flavors let me know what you think of them!